Roger's Williamson Amplifier Mk III


Designed by Roger Knopp, M.Sc.EE
knopp.electronics@iname.com
phone/fax: +46 31 252345

The amplifier KEW807-91C seen in this page is my third attempt in building a modern, good and cheap stereo Williamson Power Amplifier. The chassis is handmade of solid Pine.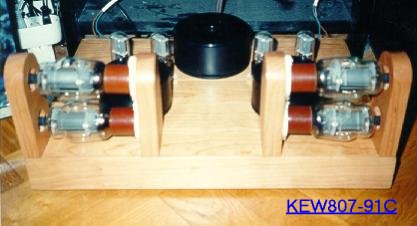 Main Data:
Power Consumption: 130W@230/115V 50-60Hz
Supply Voltage: 2X400Vdc@130mA (KE77003-A)
Heater Voltage: 2X6.5V@3A (0.9A@807)
Closed Loop Gain: 17dB
Std Feedback (BF+1): 20dB
BW(+/-3dB): 7Hz-280kHz@67mW
Power(12.6% THD): 2X13.8W@7.3Ohm
KEW807-91C, The Williamson Amplifier Mk III using triode connected 807's from Sovtek (NFS).
More info:
Back
KEW807-91C, Independent THD and linearity measurements
KEW807-91C, Power response using new MT and old vs new OPT
KEW807-91C, Power response using new MT, OPT and Sovtek 6550